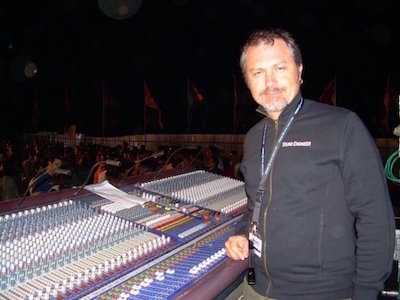 Fonico di sala
Andrea Bocelli, Orchestra di Gino Paoli (Dimi) nel Tour 2002, Trasmissione Colorado Cafè di Diego Abatantuono, La Tribù, Umbria Jazz Winter (Noche Latina), Havana Mambo, Mario Tessuto, Guido Manusardi, Little Tony, Platters, Mal, Fiordaliso, Joe Diorio, Acustica, Lovintresi, S.N.P., Kim & the Cadillacs, Valtellina Jazz Festival, Van De Sfroos, Romantici Vagabondi, Martin O'Connor, Mauro Sabbione (ex Matia Bazar), Def Shepered, Whiskey Trail, Monocromo, Stefano Sposetti, Marco Detto, Alberto Camerini, Dr. & The Medics, Bellini, Ridillo, Lalla Francia, Tom Harrel, Mick Goodrick, Enrico Rava, Andy J.Forrest, Paola Folli, Luca Colombo, Luca Jurman, Gianfranco Jannuzzo, Enzo Iacchetti, Dario Vergassola, Fichi d'India, Bebo Storti, Raul Cremona, Licia Colo', Sandro Gibellini, Roberto Gatto, White Turf St.Moritz (CH), Fabrizio Bosso, Paolo Fresu, Giovanni Falzone, Gianluca Petrella, Michel Godard, Francesco D'Auria, Roberto Cecchetto, Max De Aloe, Attilio Zanchi, Michele Di Toro, Marco Bardoscia, Paolino Dalla Porta, Stefano Bagnoli, Paolo Tomelleri, Boris Savoldelli, Antonio Faraò, Gianni Morandi, Martin Barre, John Patitucci, Sergio Caputo, Djabe, Monday Orchestra, Fabrizio Bosso, Alberto Bonacina, tecnico ufficiale del festival Ambria Jazz, Lecco Jazz Festival e in tour con i Luf, Circo Abusivo, Colours e Biglietto per l'Inferno.
Fonico di palco
Toquinho (tour teatrale e registrazione Video Live), La Tribu', Van De Sfroos, Equipe 84, RAI " Capodanno con Funari" (Orchestra Sal Genovese), Scisma, Soon, Extrema, Federico Salvatore (tour teatrale), Eric Burdon, Statuto, Persiana Jones.
P.A. manager
Urriah Heep, Anna Oxa, Tour 2002 di Gino Paoli, Timoria, Joe Zawinul Syndacate, Dik Dik, Maurizio Vandelli, Banco di Mutuo Soccorso, Sugar Ray, Ragazzi Italiani, Jo Squillo, Paola Turci, Bluvertigo, Manolin Medico de la Salsa, Celia Cruz, El Canario, G.Lindo Ferretti, Compay Segundo, Les Tambours du Bronx,
Microfonista
Tour italiano Norah Jones del 2002.